Insights



Positive Public Response to Tanzania President Samia Suluhu Hassan's Reforms
March 24, 2022 · 1 min read
VoxCroft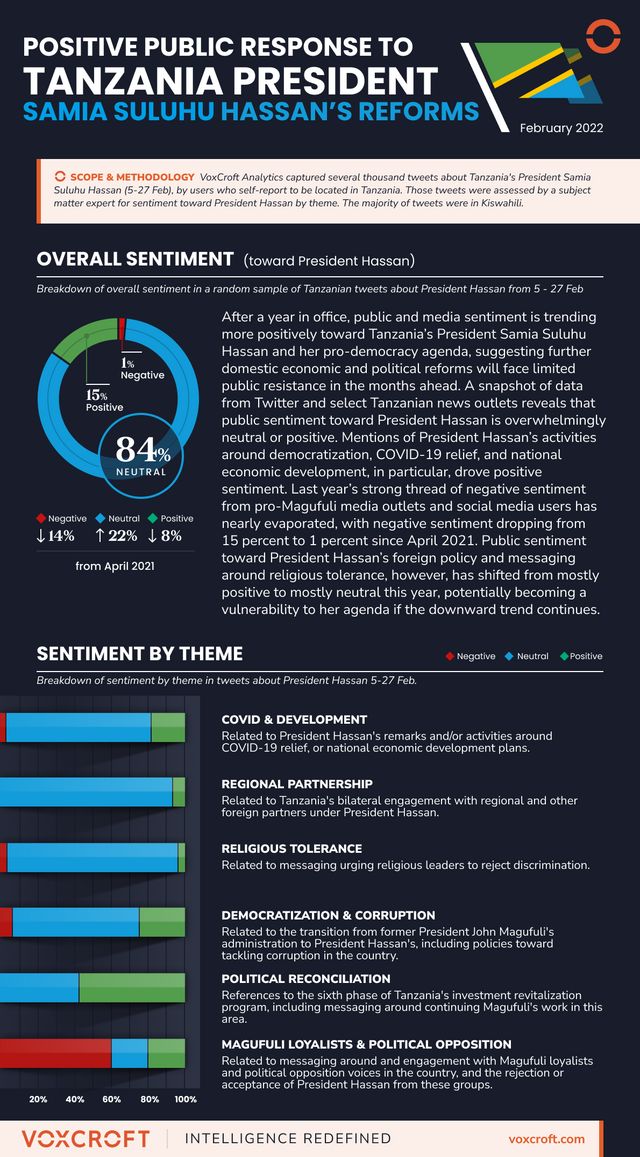 After a year in office, public and media sentiment is trending more positively toward Tanzania's President Samia Suluhu Hassan and her pro-democracy agenda, suggesting further domestic economic and political reforms will face limited public resistance in the months ahead.
A snapshot of data from Twitter and select Tanzanian news outlets reveals that public sentiment toward President Hassan is overwhelmingly neutral or positive. Mentions of President Hassan's activities around democratization, COVID-19 relief, and national economic development, in particular, drove positive sentiment.
Last year's strong thread of negative sentiment from pro-Magufuli media outlets and social media users nearly evaporated, with negative sentiment dropping from 15 percent to one percent from April 2021.
Public sentiment toward President Hassan's foreign policy and messaging around religious tolerance, however, shifted from mostly positive to mostly neutral this year, potentially becoming a vulnerability to her agenda if the downward trend continues.
**Scope & Methodology: **VoxCroft captured several thousand tweets about Tanzania's President Samia Suluhu Hassan (5-27 Feb), by users who self-reported to be located in Tanzania. Those tweets were assessed by a subject matter expert for sentiment toward President Hassan by theme. The majority of tweets were in Kiswahili.
Originally published in the Center for Strategic & International Studies (CSIS) Africa Program monthly newsletter, as part of our exclusive partnership.