Insights



VoxCroft helps mining sector to understand and reshape conversations around climate change
May 9, 2022 · 3 min read
VoxCroft
Mines are frequently criticized for being one of the main contributors in accelerating climate change. However, some mining companies are taking the lead in energy transition by increasingly adopting more sustainable processes. VoxCroft Analytics is pleased to be invited to the Deloitte Greenhouse at the 2022 Mining Indaba to share our newest findings in the energy transition space.
Deloitte is assisting the mining sector to review internal processes and risks, and has asked VoxCroft to look at what is happening 'outside the gate' of mining operations in South Africa. VoxCroft conducted an intensive open-source study and found key leverage points that mining companies can use to address the popular concerns about the mining industry's environmental impact and demonstrate that the mining sector can become climate change champions.
Over the last two months, our team used its unique combination of technology and expert human analysis to explore the energy landscape in South Africa, delving into a huge array of open-source and media conversations on climate change, decarbonization, and energy transition. While public chatter around energy transition in Africa is dominated by negative sentiment toward 'load shedding,' VoxCroft found clear opportunities for positive engagement that the mining industry and large corporates can leverage on the issues of energy transition and alternative energy.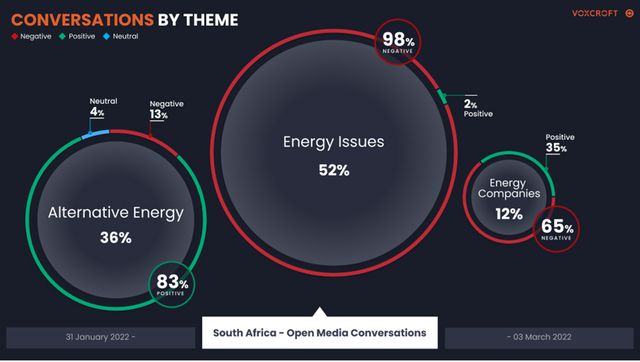 Data collected between 31 January and 3 March from the full spectrum of open-source media (including traditional media and social media) highlighted that the energy-related conversation in South Africa is dominated by:
Issues around Eskom, loadshedding, and the potential for the energy production industry to be privatized (52% of all related chatter with 98% of this representing negative sentiment).
36% of the conversation focussed on alternative energy of which 83% showed positive sentiment.
12% of the conversation cited energy companies, including companies in the mining sector, with 65% of this sentiment being negative.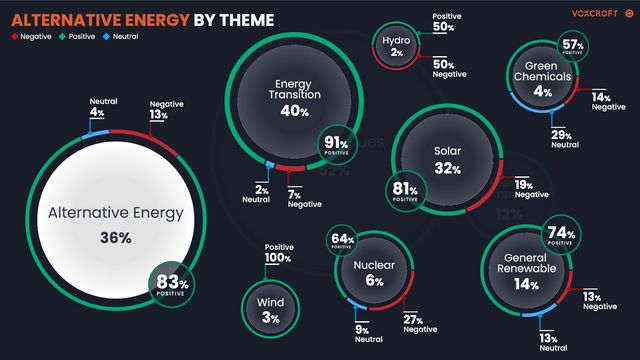 Delving deeper into the alternative energy conversation, our data and analytics indicate that South Africans are ready to abandon fossil fuels. Indeed, energy transition and solar energy discussions drove over 70% of the conversation and mostly attracted positive sentiment. Although we are seeing a rapid rise in discussions about wind, hydro, and green chemicals, solar energy is the most popular alternative energy, with most of the positive conversation focussing on the installation of solar panels by individuals and businesses.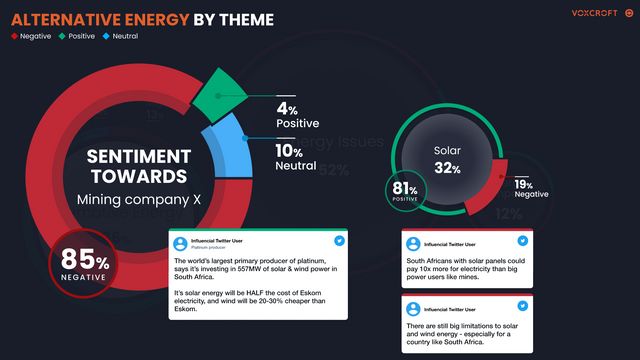 Within the alternative energy conversation, VoxCroft extracted a focused collection on sentiment towards a large platinum mining company and found that 85% of the conversation held negative sentiment towards the company. While much of the negative sentiment focused on protests that fell outside of the scope of this specific report, the data provides valuable insight into local community grievances and can be leveraged as an opportunity for further engagement. This data is available for a deep dive report for interested parties.
The data shows clear opportunities for mining sector engagement. Positive sentiment during the collection period correlated with solar power investments by large corporations. VoxCroft assesses that continued corporate investment in clean energies is a key strategy in changing current negative sentiment towards the mining sector.
However, there are also clear risk indicators, evidenced by negative sentiment towards the perceived 'unfairness' of pricing structures that allow large organizations, including mines, to purchase solar panels more cheaply, compared to the retail price for these technologies. The data also showed some negative sentiment towards the technical limitations of solar energy.
VoxCroft constantly develops new methodologies and technologies for population-centric analytics to delve deeper into the conversations that drive the socio-political and economic landscape. The results presented here show an initial analysis of thematic conversations in South Africa. The next step is to delve deeper into the data. At VoxCroft we are currently working on multiple projects that examine the varied nuances and themes within climate change conversations by:
Understanding the biases of the media sources that report on these themes;
Tracking changes in the conversation over time;
Identifying influential roleplayers in the conversation;
Segmenting an industry by its value chain to monitor changing upstream and downstream conversations that could influence our clients' operations.
For more information on VoxCroft or the projects that we are working on in the energy transition space, please contact sales@voxcroft.com