Insights



South China Sea Tension Sours Filipinos on China and U.S.
November 8, 2023 · 2 min read
VoxCroft
As tension in the South China Sea grows, VoxCroft Analytics collected thousands of Filipino social and online media mentions during 2023. Our sentiment models, verified by human labelers, observed that Filipinos perceive their country to be at a high risk of being drawn into a conflict between the United States and China. Fears that Manila could become embroiled in a regional conflict reinforced negative sentiment toward China, but also undermined otherwise largely positive Filipino sentiment toward the United States.
Filipinos distrust Beijing's activities in South China Sea
VoxCroft's thematic classifiers pointed to overwhelmingly negative public sentiment toward Chinese activities in the South China Sea. This reinforced our previous baseline assessment that Filipino social media users perceive Beijing to be an unreliable interlocutor and regional threat.
This distrust also colored public sentiment around Chinese private sector investment. For example, coverage of President Marcos' visit to China—where he signed billions of U.S. dollars in investment agreements—was viewed positively, but this sentiment soured by August when reports emerged of a Chinese company's participation in a reclamation project in Manila Bay.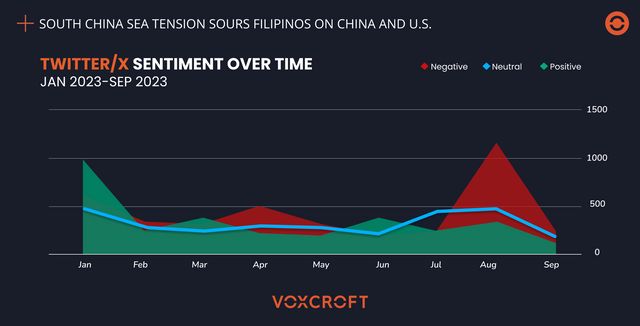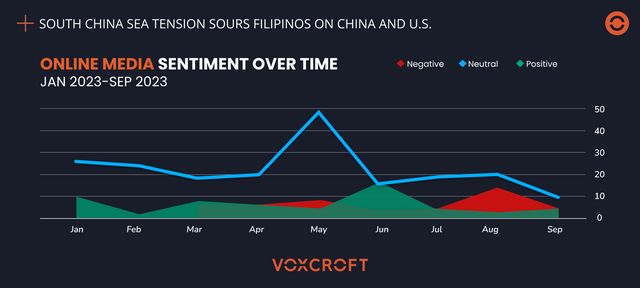 Public fears involvement in regional conflict
Negative public sentiment toward China contributed significantly to Filipino narratives about the prospect for conflict in the region. Discourse around China-Taiwan reunification revealed low expectations for a peaceful scenario.
Online and social media users focused on preparations for a violent reunification process, such as enhancing relations with Japan to bolster Filipino security in the event of a war. Roughly half of online media stories about Taiwan focused on U.S.-China rivalry and broader security issues in the region. These trends reinforced negative perceptions of China and suggested a broader expectation of future conflict.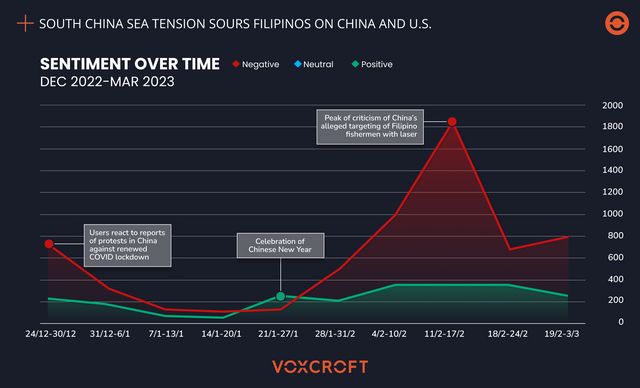 Potential for conflict dims view of the United States
While the United States enjoyed a relatively high proportion of positive mentions, VoxCroft noted that this sentiment shifted when social and online media users turned their attention to a potential conflict. In particular, Filipino social media users were concerned that the addition of four U.S. military bases would increase the country's risk of becoming embroiled in an eventual war.
Furthermore, these fears were often paired with negative statements about the U.S. and the Filipino government for placing the Philippines in this predicament. For example, some Facebook users argued the U.S. would be hard pressed to defend itself, much less others. An editorial questioned what the Filipino president would gain from meeting with President Joe Biden after having already "agree[d] yet once more to be America's little brother in Southeast Asia."
VoxCroft assesses that Filipinos will continue to closely watch military activities by China and the United States in the South China Sea, and that negative sentiment toward both countries is likely to continue for the foreseeable future.